Materna Extra Care formula powder, stage 2
700 g · ₪9.27  / 100 g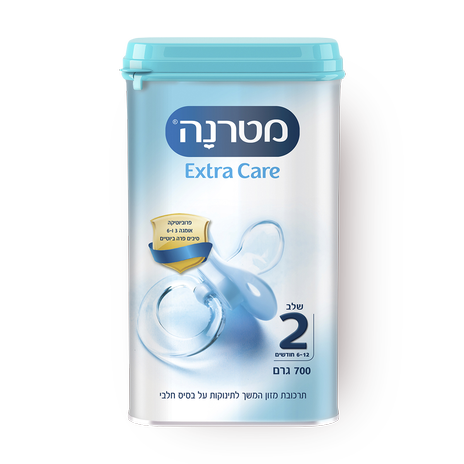 ₪45.40 instead of standard ₪64.90
Per 100g
---
kcal - 501

protein - 11

fat - 25

carbohydrate - 57
Brand, manufacturer

מטרנה, אסם

Country

Israel

Description

<p>Contains probiotics, omega 3 and 6 and prebiotic fiber. Adapted to the developmental stage of the baby from six months to one year.

Ingredients

Lactose, a mixture of vegetable oils( contains emulsifier: soy lecithin) , skim milk powder( foreign milk) , whey protein concentrate, dietary fiber such as galactooligosaccharides( GOS) , minerals:( fresh calcium di phosphate, fresh sodium citrate, fresh potassium citrate, Potassium chloride, magnesium sulfate, calcium carbonate, potassium hydroxide, iron sulfate, zinc sulfate, copper sulfate, manganese sulfate, potassium iodide, sodium selenite) , LC-PUFA DHA and ARA polyunsaturated fatty acids, vitamins:( L- Ascorbic acid C) , DL-α-tocopheryl acetate( E, nicotinamide( B3, calcium D-pantothenate( B5) , thiamine mononitrate( B1, pyridoxine hydrochloride( B6) , retinyl acetate( A) , riboflavin) . AMP, GMP) , Bifidobacteria( B.Lactis) , antioxidants: -L Escorbil Palmitate, tocopherol mixture Packed in a controlled atmosphere to maintain product quality( nitrogen) .

Disclaimer

The certain data appears on the product, do not rely on the details that appear in the app, there may be errors or inconsistencies, read what appears on the product packaging before use.<br/> The photos and dates that appear here are for illustration only and should not be relied upon.