Groceries delivered fast
Yango Deli is a supermarket in an app! It's got everything you need for your home: cheeses, fruit, vegetables, snacks, nuts, and a wide range of other food items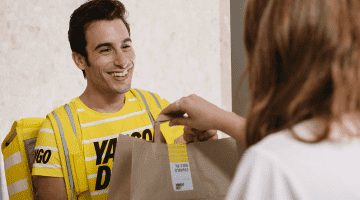 Quality products
Instead of going to the supermarket, use the Yango Deli app and enjoy an innovative shopping experience for delicious, fresh, and quality products.
The fastest
Shop online in the Yango Deli app and get your order delivered fast! How are we so quick? We've got branches open in major neighborhoods where we prepare and ship out your orders.
The most available
Looking for a supermarket open on Saturday? You're in luck! Yango Deli delivers every day of the week, even on Saturdays.
Our usual working hours
Sun - Thu – 6:30 am - 12:00 am
Fri – 6:30 am - 12:00 am
Sat – 9:00 am - 12:00 am
Join us
Facebook